Card linking is the process of linking an existing Go Rewards card/account to create a Go Rewards app account. 
To start linking your Go Rewards card, please do the following:
1. Download the Go Rewards Mobile app - Available in the App Store, Google Play and Huawei App Gallery at no cost
2. Once downloaded and installed, Click Link your Go Rewards or Robinsons Card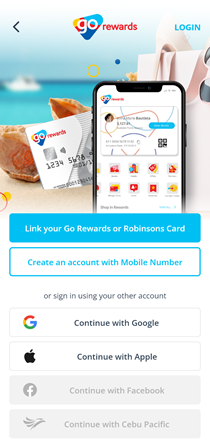 Enter your 16-digit card number and click "Confirm". You will not be able to proceed if you entered an incorrect value.


On the Member Information page, enter your last name and tap on "Confirm". This action will check for your existing account in our system. 

-

An error will

display

if the card given to you is not yet registered or a different last name is recorded in the system. Please submit a ticket request so our Customer Care team can check your account.

 





If the account

is existing

, the mobile number and email address will be populated. You may update your contact details if necessary.

Read the program's Terms & Condition and Privacy Policy. Tick the box to agree.

Tick "Yes" if you agree to receive program updates, promos and personalized offers.

Tap on the "Continue" button to proceed.



Enter the verification code.

When OTP is valid, Set Password screen will display.

Enter your password and saved.


A waiting page will be displayed while your account is being created. 



Once your account is created, you have the option to verify your Email address immediately. Click on "Send Now" to have the verification code sent to the Email

Address

registered in your account.
-

If you choose, "Send Later" the

home page will be displayed and you should verify email via member profile.

 






Enter verification code received via email 

Done! You will notice that the card number reflected in the card image is the same as the linked card.  
Linking by QR Code scanning of the Robinsons Rewards/ Go Rewards card: 
The QR code for linking is found at the front side of the card, beside the card number:

On the Register section of the app, tap on the scan icon located beside the card number input field.

Permission to access the camera is required. You may check your mobile phone's settings to allow or, if you are prompted, choose "allow". Once the scan is successful, you will be directed to the Member Information page.
Related Articles:
Understanding Card Linking and Card Merging
Where can I find my Go Rewards membership number?
How to verify your email address