We would love to have you on-board! There are several ways for you to be part of Go Rewards. Just do the following:
Downloading the Go Rewards mobile app and signing up for an account.

Purchasing the Go Rewards card at any partner retail store.

Participating in current promotional offers.
A. Registering via the Go Rewards Mobile App
The easiest and fastest way is to download the Go Rewards Mobile App and register your account. It is available and free in the App Store, Google Play Store and Huawei App Gallery. Once you have downloaded and installed the app, do the following to create an account:
Click on the "Join Us" button.

Choose, "Create an account with Mobile Number"




Fill-out all the needed information:

Tap on "Sign me up" and a code will be sent to the mobile number you have registered

Enter the code on the given field. You can ask for another verification code once the time runs out

When OTP is valid, Set Password screen will display

Set your password and save.



A waiting page will be displayed while your account is being created.



Once your account is created, you have the option to verify your Email address immediately. Click on "Send Now" to have the verification code sent to the Email Address registered in your account.

If you choose, "Send Later" the

home page will be displayed and you should verify email via member profile.





Enter the verification code received via email.
B. Purchasing the Go Rewards Card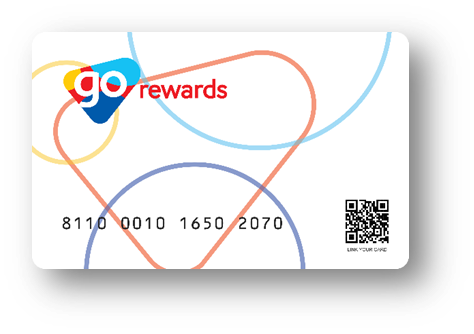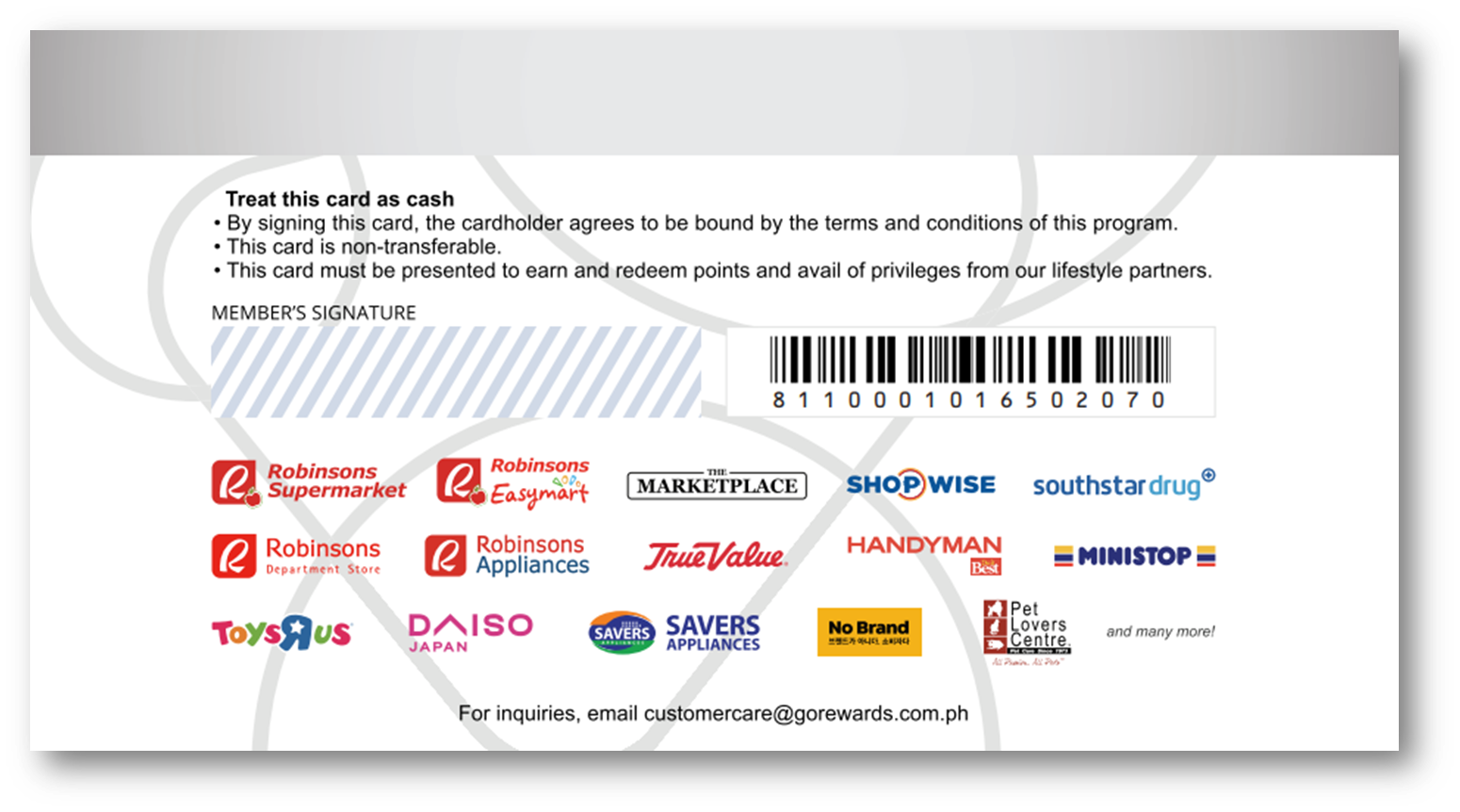 Visit any of the Go Rewards partner stores to purchase the Go Rewards Classic Card for P100. Just present a valid ID to the cashier. You will be asked for the following information to register your account:
First and Last Name

Birthdate

Email Address, or

Mobile Number
If the POS is offline, registration will not push thru. No worries, you may visit another partner store to purchase the card or come back at your most convenient time.
Customers below the age of 18 will need a consent from their parents/guardians. You may check this article to learn more.
C. Current Promotional Offers
You may check the coupon tab in the mobile app, check the Go Rewards website or visit the partner store for more information on current promos and offers.
Go Rewards Microsite
On the login page, click on the "Sign-up here" link




Click on "Sign-up".

Enter the required information and click "Continue"


Enter received SMS Verification code

Create, confirm and save your new password


You have successfully created your virtual account! You may choose to verify your email address immediately or at a later time. You may check this article if you choose to verify immediately.



If you choose to verify your email address at a later time, you will be routed to the welcome page in the Microsite.

Click "Go to my account" to

go to

your profile in the main website.



For now, membership
in
Go Rewards is for individuals only. Corporations, partnerships, or other legal entities are not eligible to enroll as members.
Related Articles:
Can My Child Below 18 Years Old Join Go Rewards? 
How Do I Link My Go Rewards Virtual Number or Card to the Mobile App?
How Do I Merge My Cards or Account?