Cebu Pacific is the leading airline in the Philippines, operating flights to over 60 domestic and international destinations across 14 countries, including Australia, China, Japan, Singapore, and the United Arab Emirates.
Flying with Cebu Pacific allows you to earn Go Rewards points from the base fare and add-ons like the following :
Seat
Baggage
Meals
Sports Equipment
And the earn rates depend on the Go Rewards Card or Membership used: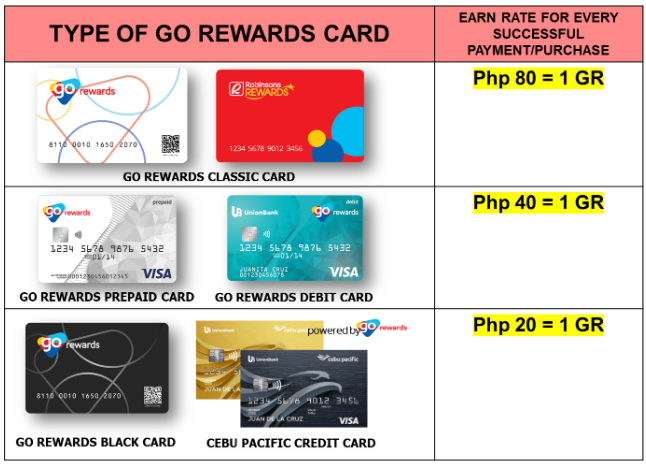 To make sure that your points are credited, do not forget to input your Go Rewards membership number in the Guest Details section at the point of booking.
You can only earn from your own flight, so make sure that the name on your booking matches the name in your Go Rewards account.
The flight must be boarded and flown. The points will be credited to your account within 7 days from the flight departure.
The following are bookings/transactions that will not earn points:
Incentive/ Prize Ticket
Chartered/ Freighter flights
Travel Industry rebated travel
Non-revenue tickets
Certain Interline tickets
Other travel with special provisions
Aviation taxes, charges, Admin fees, customs, and immigration fees
In-flight purchases
Add-ons purchased OTC/ Added to redemption booking/ Top-up payment paid during redemption booking.
No-show/canceled, refunded, or fraud bookings
Other transactions not allowed by the partner
No Retro claim of points.
Terms and Conditions apply
Related Articles:
Understanding how to earn points from using the Payment Card
How to earn Go Rewards points?