On, 24 March 2022 the Go Rewards mobile app will be updated to version 5.0 as well as the Go Rewards Website and Microsite. With this, you are required to log-out and reset your account password. This force update will apply to all app users (logged-in or logged-out). A notification prompt will be displayed to guide you through the process.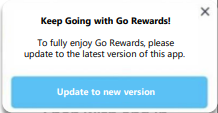 On this update, you are required to enter a verification code (via SMS) and to reset your password. Your password should contain the following:
UPPERCASE Character/s

lowercase Character/s

Special Character/s: @,!,#<…)

Numbers

At least twelve (12) characters long
Account log-in using other methods such as with Facebook or Google are still being developed. We will let you know as soon as it is available. This update will allow syncing of account information across all of our systems to make your experience much more rewarding. We have updated the following member journeys:
Stricter password format.

Card/ Account linking.

Registration/Enrollment for new members.

Account Access.

Simpler Redemption booking flow
Related Articles:
How Do I Link My Go Rewards Virtual Number or Card to the Mobile App?
How to activate my account from Promo Partner?
How to login to my Go Rewards account?
How can I join Go Rewards?