Keep going places by using your Go Rewards points and fly for free with Cebu Pacific!
For you to be able to book a flight using your Go Rewards points, you must have the following:
Active Go Rewards account;
50 minimum Go Rewards points are required for redemption.
If your registered email address in your MyCebuPacific Account is different from your Go Rewards account, please contact Go Rewards Customer Care or Cebu Pacific Customer Care to have your email address updated.
How to redeem a flight using the Go Rewards App and Website?
1. Login to your account (Website/Mobile App).
2. Click on "Fly".
3. Search Flights
Select Destination
Search for a destination by:
Choosing the type of ticket (One-way or Round Trip)
Destination
Flight date (Departure/Arrival)
Go Rewards App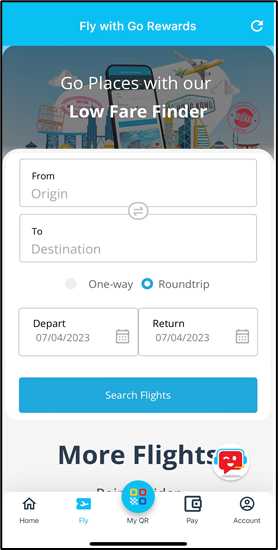 Go Rewards Website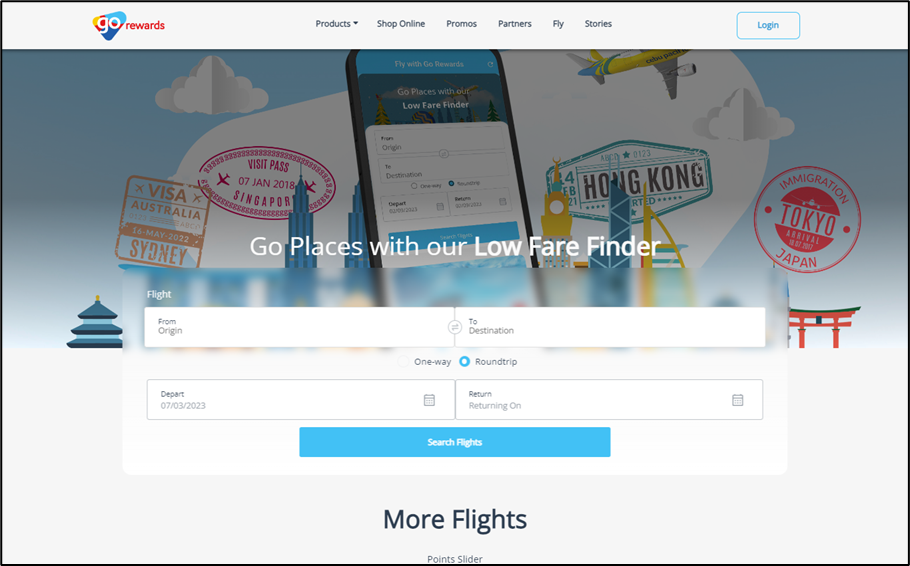 You can also browse through suggested International and Domestic destinations. The fares quoted are the lowest on a single journey (one-way) basis in the next 3 months. Fares quoted are exclusive of airport taxes and fees. Fares quoted may differ due to currency fluctuations and are subject to seat availability at the point of booking.
4. Social Consent - Web and Mobile App.
a. If you do not have an existing MyCebuPacificaccount or has an existing MyCebuPacific account that does not use the same email registered with your Go Rewards account:
After searching for a flight, consent to allow the sharing of personal information to CEB will be displayed
i. If allowed, you will be able to continue flight booking in the Go Rewards channels. CEB account will automatically be created and you will receive a temporary password from CEB via email.
ii. If not allowed, you will be redirected to the Fly homepage.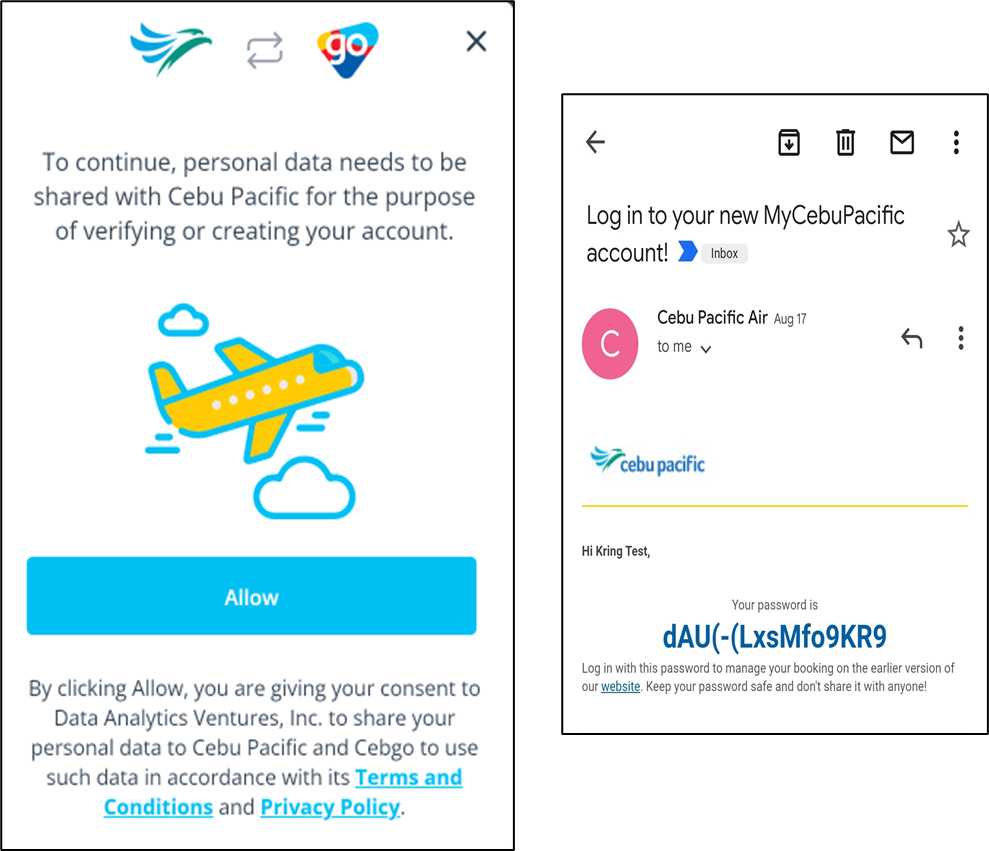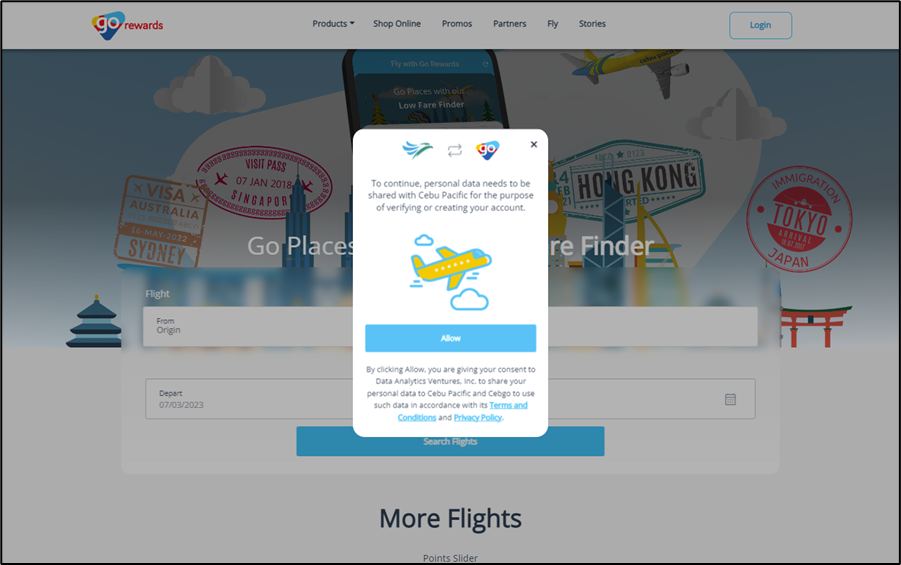 b. If you previously allowed data sharing between CEB and Go Rewards, the consent form will no longer be displayed.
5. Select Passengers, Flights, and Add-Ons
a. Confirm Passengers
You can use your points for your flight or for your others by adding a travel groupmate.
You can add your travel groupmate at any time. Just click on the Plus button, and enter the information asked. A maximum of 8 passengers are allowed to be added to a flight.
Go Rewards App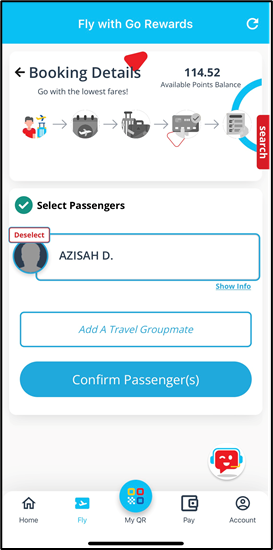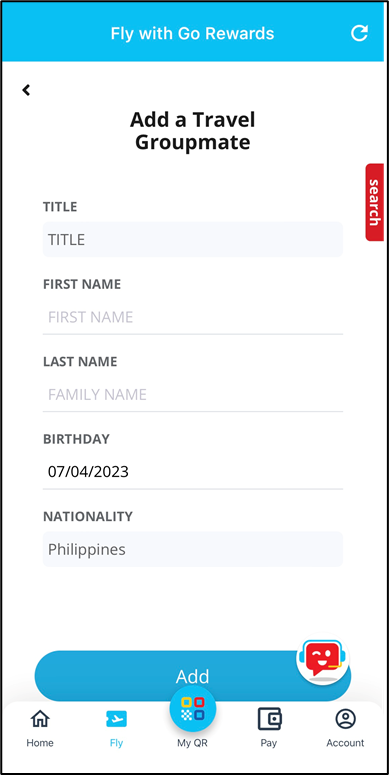 Go Rewards Website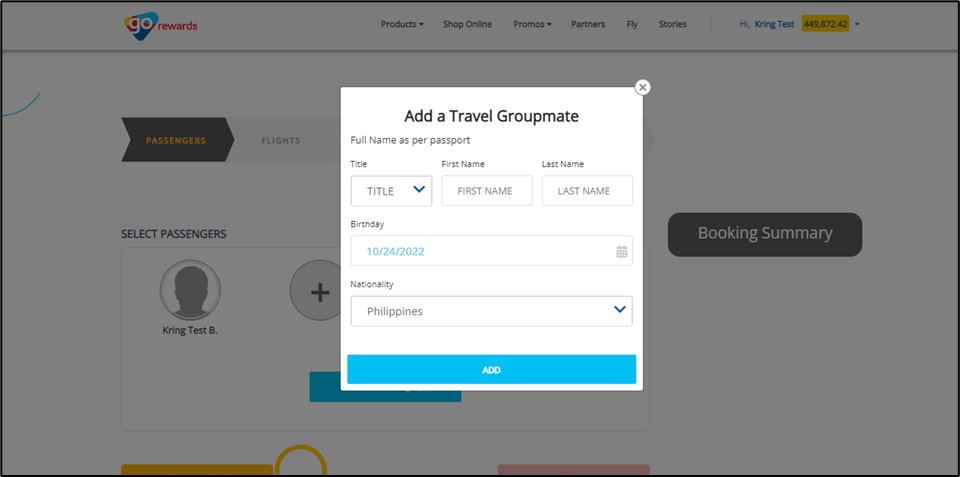 You can remove a travel groupmate by hovering your computer cursor on the Trash icon beside the profile and clicking it.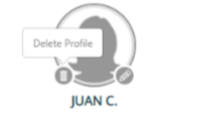 Once done, click the Confirm Passenger button.
b. Select Flight
Select a departure/arrival flight schedule of your preference.
Go Rewards App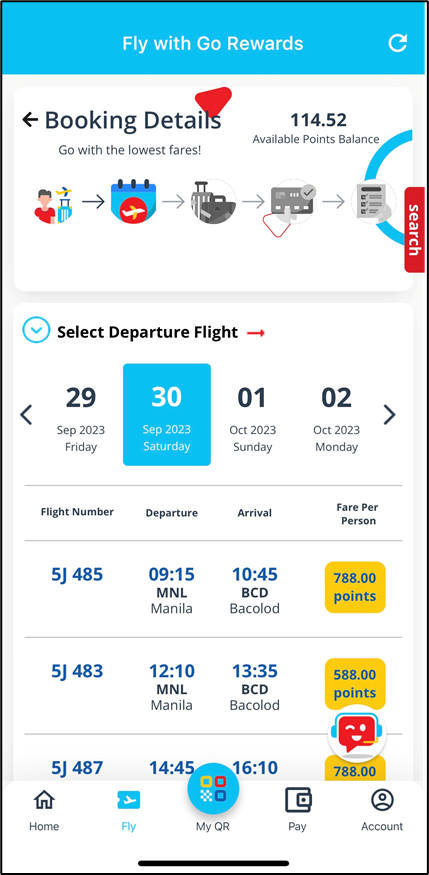 Go Rewards Website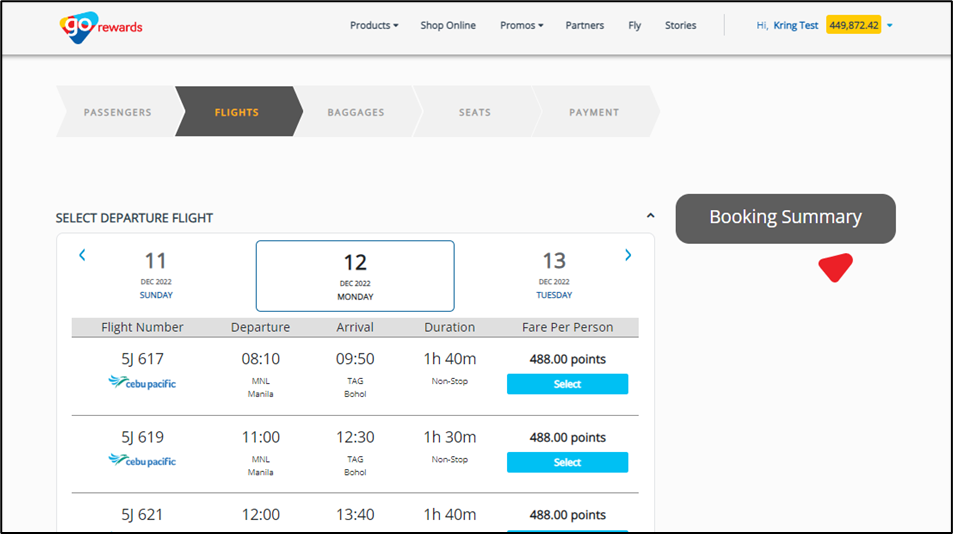 c. Add-Ons
You may wish to proceed with add-ons on your flight. Just click the check button for add-ons you wish to avail yourself. If no add-ons, you may proceed to Payment
Go Rewards App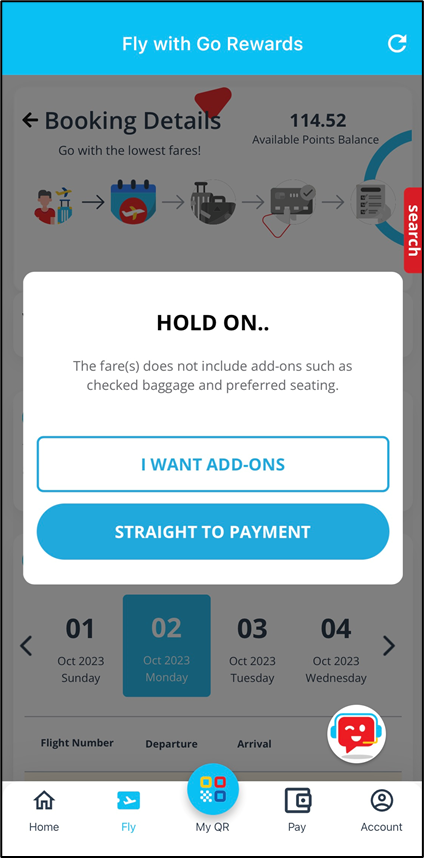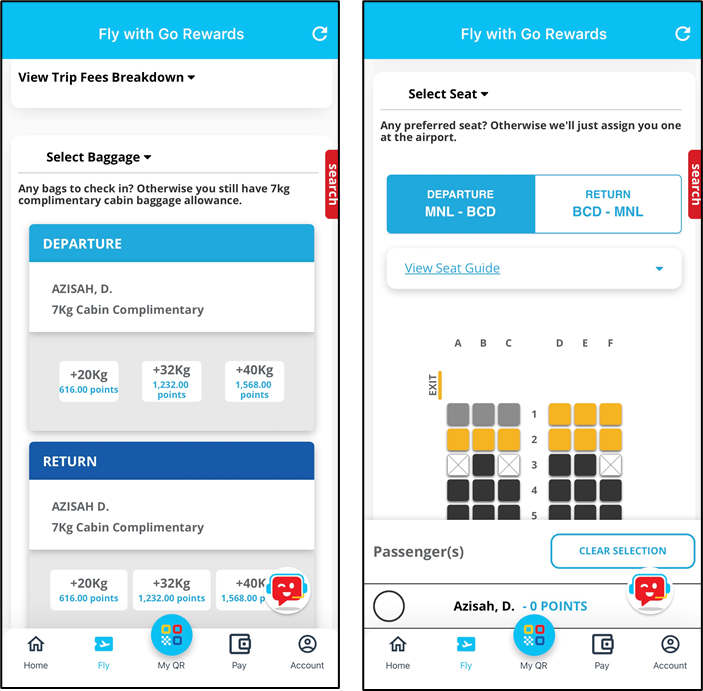 Go Rewards Website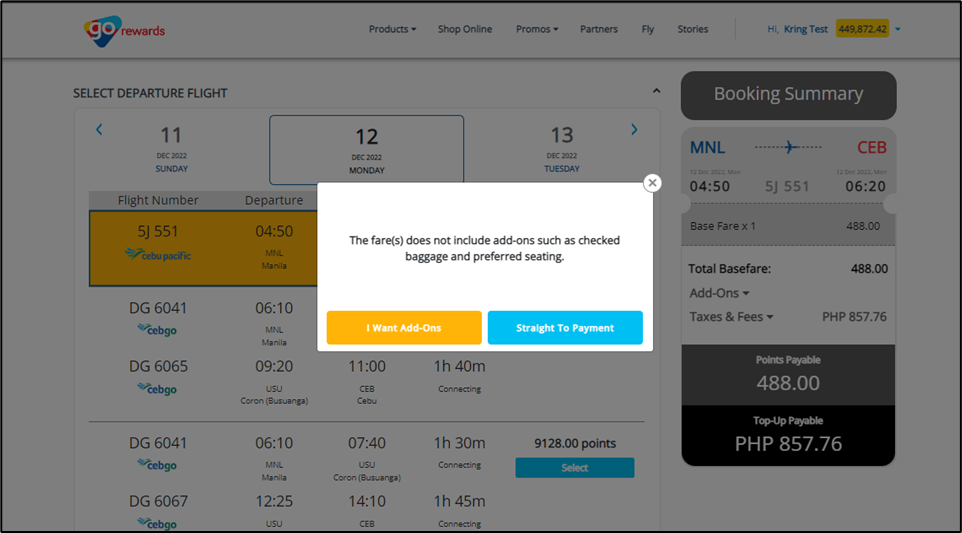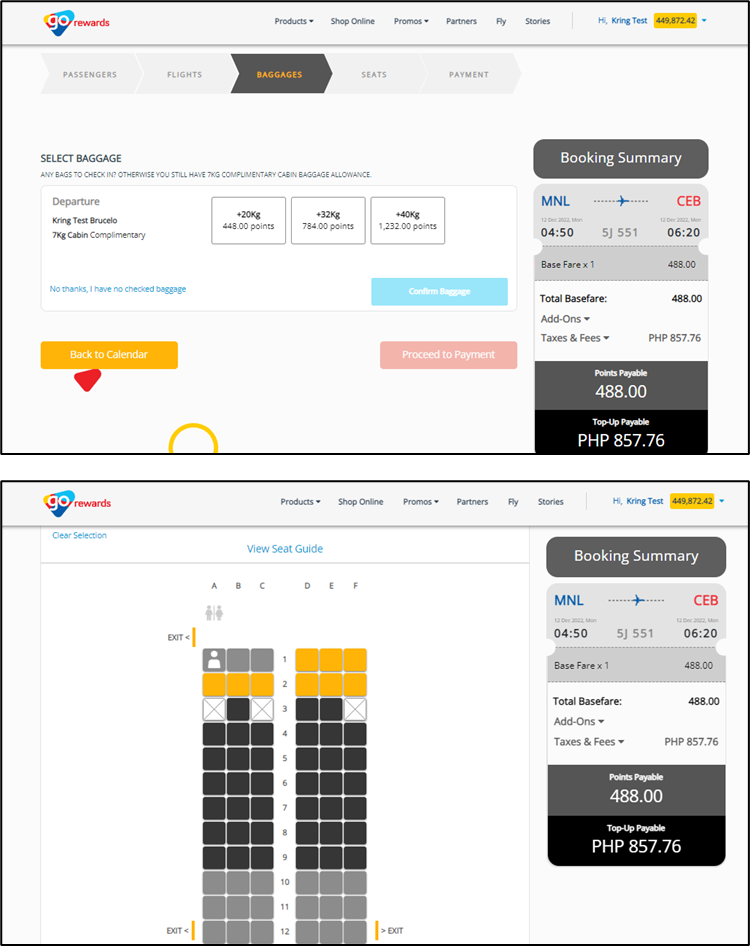 6. Proceed with the payment to confirm the booking
We will continue to make other payment options available for you. For now, any top-up payment can be paid using any Visa or Mastercard Credit Card. For security purposes, booking must be completed in 15 minutes. Otherwise, the page will be refreshed and you will restart your booking activity.
Enter points from the available balance you want to use for this flight.
Should your Go Rewards points be more than enough for the cost of the flight, you may choose to pay in full Go Rewards Points redemption or partial points redemption.
a. Full redemption - You use all your Go Rewards points and is sufficient or more than enough to cover the cost of the flight
Go Rewards App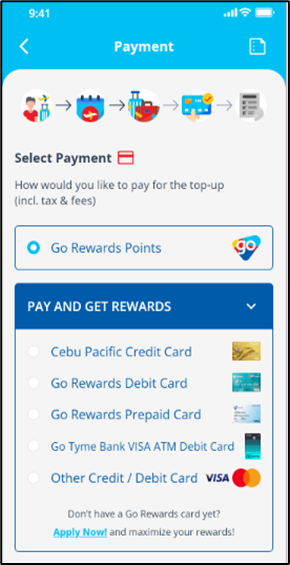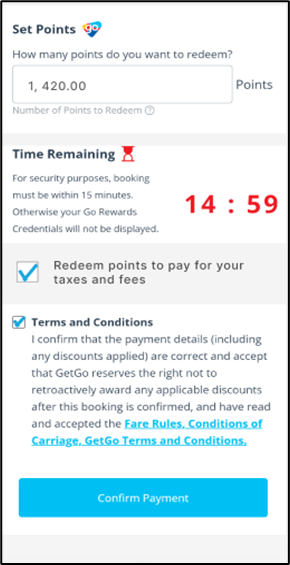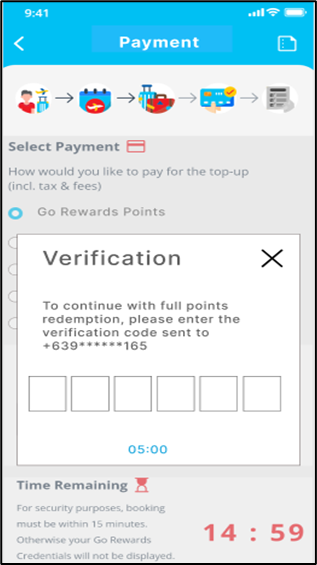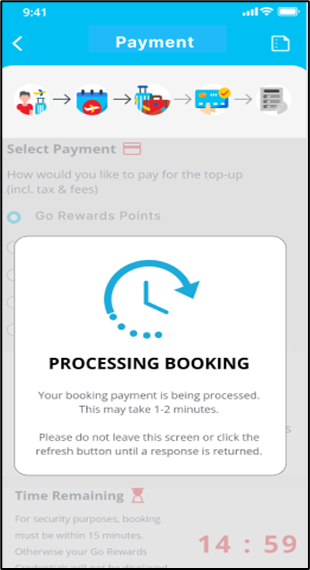 Go Rewards Website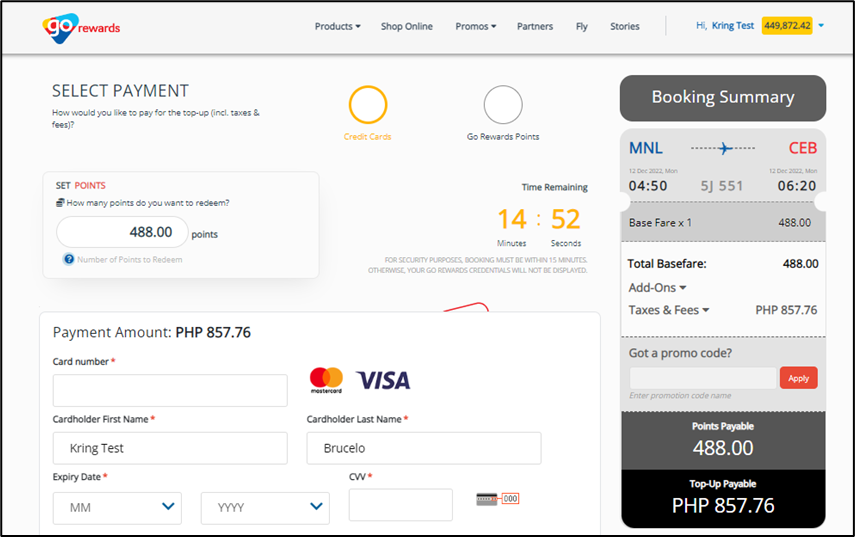 b. Partial Redemption - you set the amount of Go Rewards points for redemption and top-up thru Credit Card payment.
Note: Minimum amount for points redemption is 50 Go Rewards Points
Go Rewards App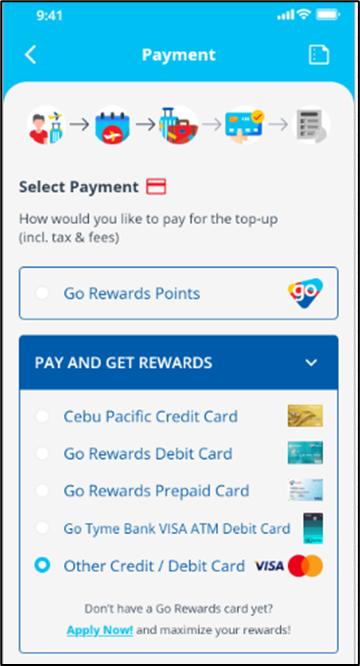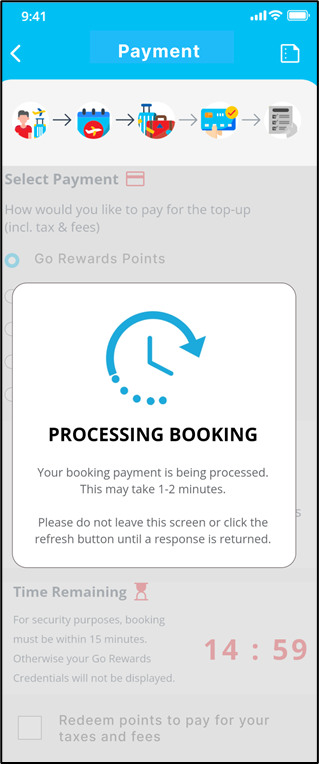 Go Rewards Website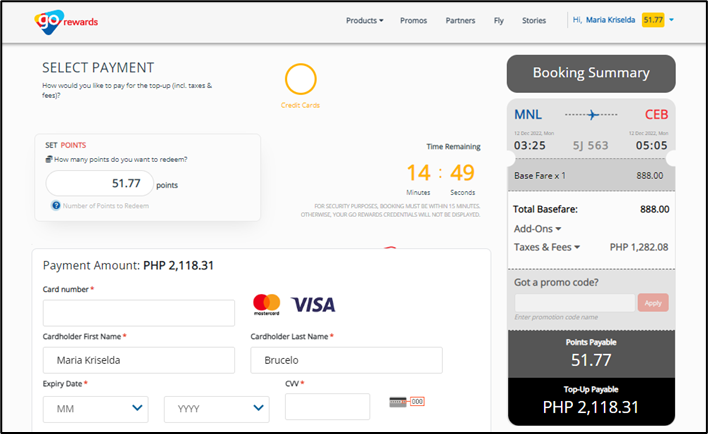 Enter the credit card information, then click Confirm and Pay.
Payment confirmation and itinerary will be displayed on the Go Rewards channel once payment has been completed. You will also receive an email from CEB containing the itinerary receipt.
Go Rewards App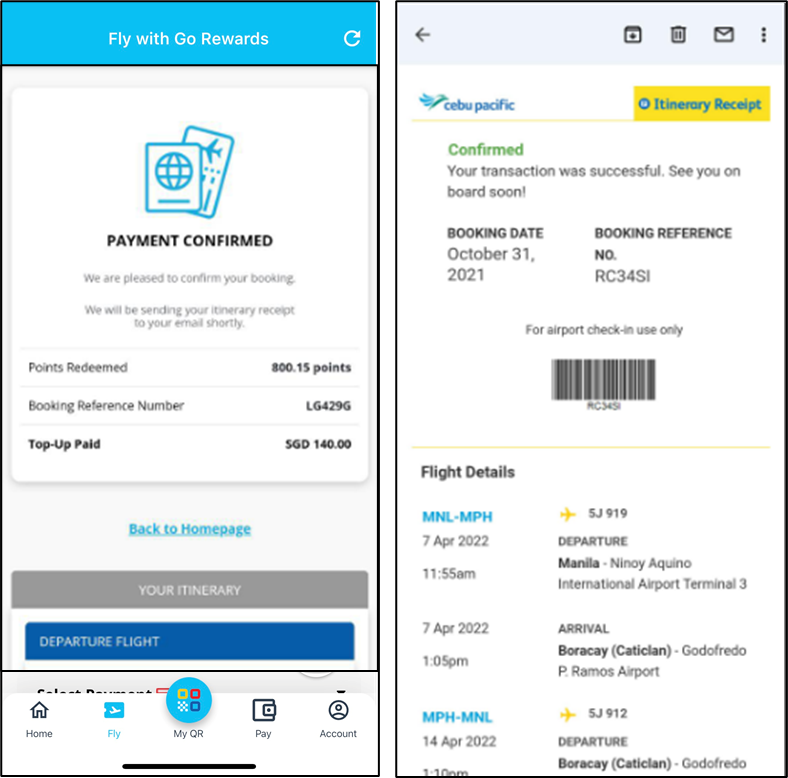 Go Rewards Website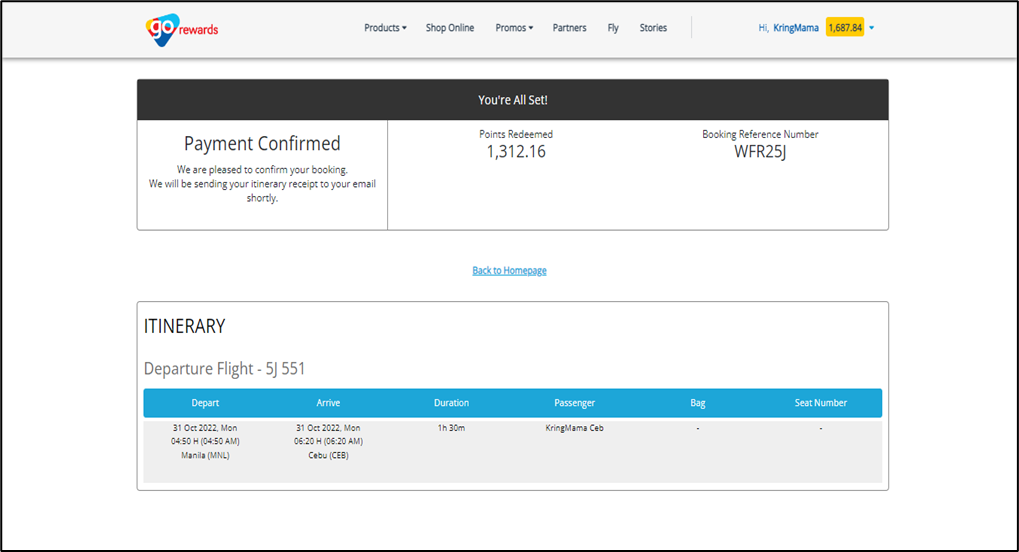 In case you have errors in booking a flight using Go Rewards App or website, please feel free to visit this article here on how to resolve the error.
Related Articles:
How to manage my redemption flight?
How to redeem points at Go Rewards partner stores?
How do I keep track of my points balance?