1. What is Maxicare Rewards?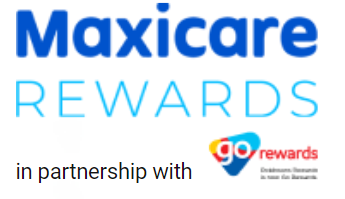 Maxicare Rewards is the loyalty program of Maxicare Healthcare Corporation in partnership with Go Rewards.
2. How will I earn points?
Go Rewards points are automatically awarded for every purchase of selected participating Maxicare prepaid card products from the Maxicare Online Store:https://shop.maxicare.com.ph/.
Points will also be automatically awarded for every transaction in qualified Maxicare channels and services – just make sure that you have linked your Maxicare Rewards Code in your Go Rewards profile for this to happen.
3. Who can participate?

Whether you are a Maxicare member or not, you may earn points by purchasing select Maxicare prepaid cards from https://shop.maxicare.com.ph/. Just provide your Go Rewards card number during purchase.
To earn points from selected Maxicare channels and services, all active Maxicare members except for prepaid members (PRIMA, EReady and EReady Advance) are eligible.
4. What Maxicare Prepaid Cards can I purchase to earn Go Rewards Points?
You will earn Go Rewards points when you purchase Maxicare PRIMA Gold card,
PRIMA Silver card, EReady Advance Platinum, or EReady Advance Titanium card.
PRIMA GOLD AND SILVER CARD

EREADY ADVANCE PLATINUM AND TITANIUM CARD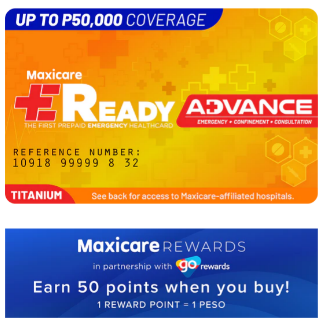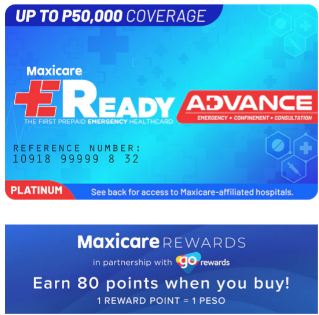 5. Can I also earn Go Rewards points when availing Maxicare's services?
You will earn Go Rewards points when you avail of Maxicare services like completing a transaction at the Maxicare Primary Care Clinics, completing a transaction using the Maxicare Telemedicine 24/7 Teleconsult Voice call, or completing a transaction at the Maxicare Corporate Clinics.


6. What is a Maxicare Rewards Code and how to generate it?
Rewards Code is the identifier used to link the Go Rewards account to Maxicare Card via Go Rewards App, click "Account" and select "Edit Profile".

To get the Maxicare Rewards code, members should go to the Maxicare Rewards page on the Maxicare website and enter the Maxicare card number and Member's Last name.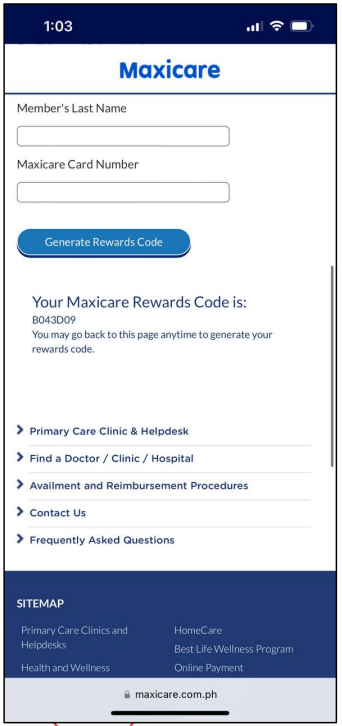 7. How do I link my Maxicare account to my Go Rewards App?
To link your Maxicare account to your Go Rewards App, please do the following:
1. Get the Rewards Code via Maxicare Rewards page or via Email from Maxicare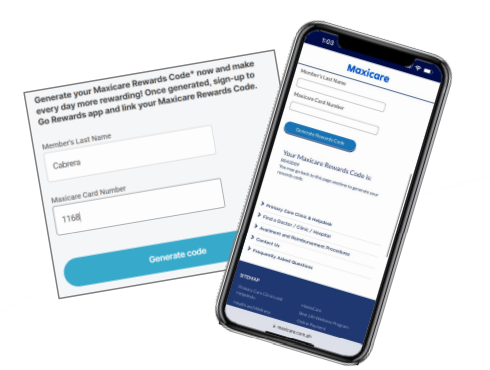 2. Link your Maxicare Rewards Code via Edit Profile in Go Rewards App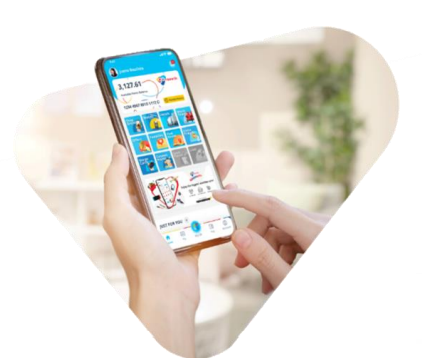 3. Start earning Go Rewards points from Maxicare Transaction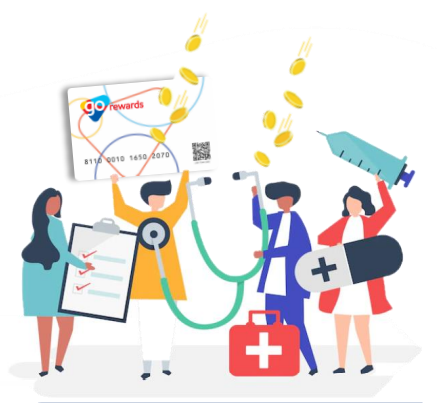 8. How can I earn Go Rewards points?
You can earn points by doing the following:
A. PURCHASE THE SELECTED MAXICARE PREPAID CARDS
1. Download the Go Rewards app and create an account
2. Purchase the participating Maxicare prepaid cards from the Maxicare Online Shop and input your Go Rewards number (from your Go Rewards app profile) on the checkout page.
Note: You will no longer earn points if you fail to input your Go Rewards Number when you completed a purchase transaction of the Maxicare Prepaid Cards.
B. AVAIL OF THE SELECTED MAXICARE SERVICES AND CHANNELS (For all members except for Maxicare prepaid card members)
1. Download the Go Rewards app and create an account
2. Get your Maxicare Rewards code from our website and add it to your Go Rewards profile
3. Sit back, relax and wait for your points to be credited to your account after your completed transaction
9. Whom should I contact for any concerns?
For any Maxicare product or service inquiries or concerns, please feel free to reach out to Maxicare's Customer Care team via email at customercare@maxicare.com.ph or you may call their Product Inquiry hotline at +632 7798 7770.
For any points-related concerns, please feel free to reach out to our Go Rewards Customer Care team by submitting a ticket via our Member Support Webform channel by clicking this link.
Related Articles:
Can I earn Go Rewards Points when using Maxicare?
How can I join Go Rewards?
How can I contact the Go Rewards Customer Care Team?